It's been a while since we've vended at a show or posted animals for sale. Life gets busy! But we couldn't pass up an opportunity to grab a spot at a new local Phoenix show sponsored by our friends at Predator's Reptile Center. We are sharing a table with the great folks at Hungry Hungry Geckos, who have some amazing critters!
The aptly named Predator's Reptile Expo is April 29-30th 2017 and will be located at the Holiday Inn Hotel & Suites Phoenix-Mesa/Chandler.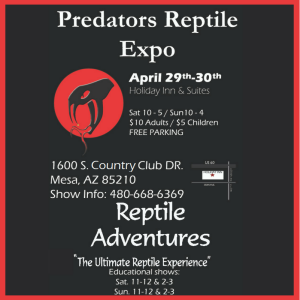 Predators Reptile Expo
April 29-30, 2017

Holiday Inn & Suites
1600 S. Country Club Dr.
Mesa, AZ 85210
Saturday 10am – 5pm
Sunday 10am – 4pm
Adult tickets are $10, Kid tickets are $5. Parking is FREE! You don't want to miss out, some of the best reptile breeders and suppliers will be there.
The expo includes educational reptile shows both Saturday & Sunday, from 11am-12pm & from 2-3pm.
For more show info, call 480-668-6369.
See you there!