Based on our new 24V diaphragm pump, capable of running up to 10 nozzles. This misting system is virtually silent. Pump can run dry with no damage, which can cause other systems to burn out prematurely. MistKing nozzles are equipped with a check-valve which greatly reduces the drip after misting is done. This was already a great improvement that set us apart from other vendors. In addition you can choose the ZipDrip valve – an optional accessory which instantly releases all the pressure in the misting lines, resulting in ZERO (ZIP!) drip.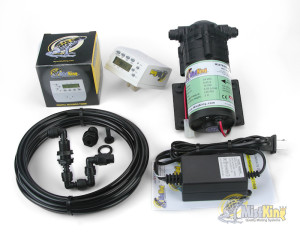 Pump is adapted for 1/4″ push in fittings and carries 2 year warranty. This pump can silently run 1 nozzle or as many as 10 nozzles. We do not ship reservoir buckets with our kits. No need to add to the shipping cost for something that can be picked up locally for a few dollars. Our misting systems come with instructions and push in bulkhead fitting to convert any bucket or container into a reservoir. Plastic pails cost from $3-$8 retail depending on size.
This kit is based on our our Value Misting Assemblies. Robust and stylish nozzles.
These nozzles are loaded with features!
Every nozzle is tested and it includes our super low flow check-valved spray tip, custom crafted in black (not standard red like others sell!)
Fully adjustable in every direction. You can't upgrade this nozzle, because it's already upgraded and has 3 swivel points.
Misting Assemblies are 100% black (not white, like others!). Much less conspicuous and easier to hide out of the view.
Can be securely fastened to any surface up to 0.625″ (5/8″) or 1.5cm thick. We do not use a suction cup
Low profile, tucks neatly under the installation surface to lower the visibility factor – Because you're not showcasing your misting nozzles in your designs!
Our nozzle design currently has a Patent Pending status at the Patent Office.
If you need additional nozzles, a Zip Drip valve or other parts to expand your system, please visit the Parts & Accessories page.
Mister Kit includes:
Diaphragm pump with a 24V DC adapter
1/4" connectors on the pump
1 Value misting nozzle
Reservoir bulkhead with o-ring and plug
15 feet of 1/4″ black opaque tubing
Digital Seconds Timer with instructions
Installation instructions
Note: A Reservoir is not included, allowing you to size up or down specifically for your needs. This provides necessary flexibility for the serious hobbyist as well as commercial breeder. A 5 gallon bucket is suitable, as is a jug of Reverse Osmosis water. RO water is recommended to prevent mineral deposits on terrarium glass or within the nozzles.